Employee morale and engagement are plummeting during this age of COVID-19. But there are solutions—through team-building volunteer service events.
We're all managing the current pandemic in our own way. The coronavirus has forced us out of public gathering spaces and into our homes. At times, feelings of loneliness and disconnection can be overwhelming. Think about it—when was the last time you or your co-workers had an activity where you:
spent time together

were excited about working alongside each other

did something truly meaningful together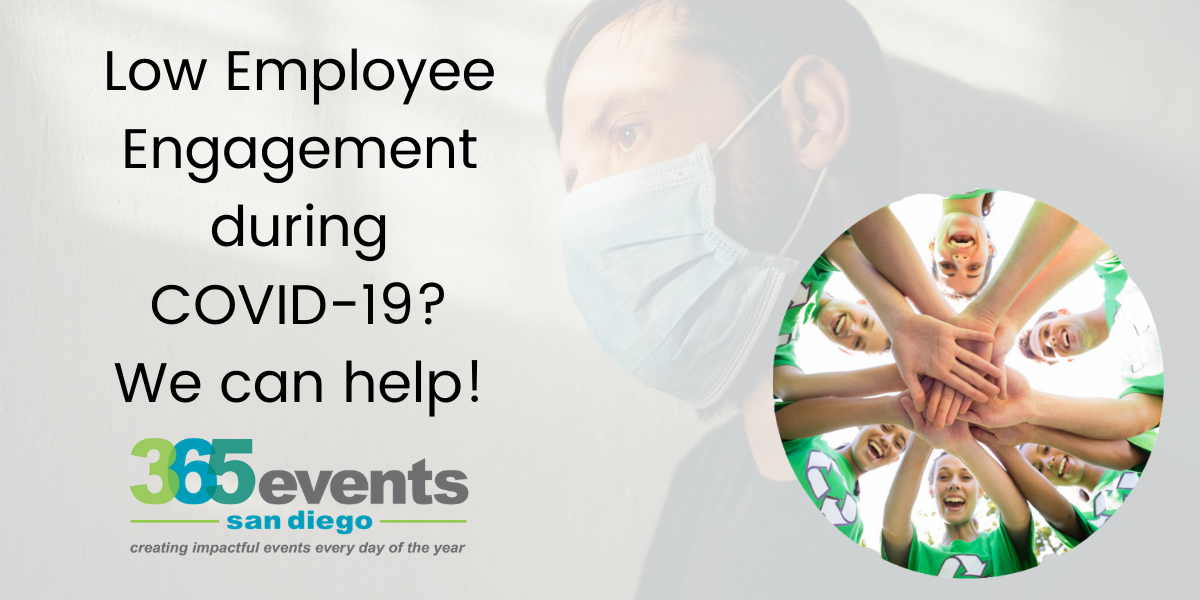 As human beings, one of the many things we have in common is the desire for human connection. We are just wired that way—shaking hands, giving hugs, eye contact, the warmth of a touch, working side by side—all ways to make us feel connected,  feel good about ourselves, and make others feel needed. This sense of belonging—to a team, a neighborhood, a cause, a school, or company—shapes our identities, making us healthier and more community-oriented. 
So what will this "new normal" look like once we move forward from the current pandemic? How will it affect corporate engagement and corporate volunteer opportunities? Here are a few things to think about and our very positive take on what's to come…
Things at the office will look and feel differently when employees start heading back to work. It will most certainly change the way we work. Among the key changes companies are already implementing are:
More space between workstations and increased sanitation measures

No more handshakes

More employees (close to 41%) will be working remotely from home on a semi-regular basis

Staggered work schedules to lessen occupancy in buildings

Creating more physical barriers between employees

Temperature checks and thermal body cameras

The freedom to mingle with colleagues over coffee and water cooler conversations will pretty much disappear

Conference rooms where employee teams gather to share ideas and inspire each other will change 
With all these changes being made, how will employees re-connect? This is a time when corporations need to invest in ways to build their teams outside of the office and the best way is through volunteer service events with a common goal in mind.
What better way to re-establish an atmosphere of empowerment and engagement than to volunteer with your team for a philanthropic cause? When employees are actively involved in giving back—whether it be a group of 20, 50, or 250—it can lead to a deeper commitment and connection to their work, their company, and to each other.
Think of how empowering it will be as a company to accomplish one of these as a team-building activity:
Build a community garden

Renovate and repair a house for a military veteran

Paint a school or classroom

Assemble bikes for foster youth

Paint a mural to beautify the community

Assemble Care kits for Cancer Patients
…everything to pay it forward and to say "I Care" after an unprecedented time in our world's history.
Now more than ever, corporate engagement with "boots on the ground" can show the value of their work while meeting the needs of the community. Corporate volunteer programs will have greater value over the long run and are beneficial in the following ways:
Reconnect employees through community involvement

Boost morale and team building 

Adding value to the community in which they work

Reestablishing the human connection for the common good

Team-Building through philanthropic causes
Virtual events were an appropriate band-aid to help the world feel connected at a time when we were forced to be apart, but events are about sharing an experience with people and are an essential part of human society. The desire to meet, socialize, care about, and do good for others is inherent to human beings. Nothing will replace the impact of face-to-face events.
With that said, we can help! 365 Events San Diego is committed to supporting companies and their philanthropic causes moving forward. Communities, where their employees work and live, need to unite through action and volunteer community service events to build a stronger sense of community and bring back the human connection and sense of belonging—by doing good. We cannot wait to get back out into the community and make a difference!
If you are interested in finding out more about what we do and how to reconnect your employees through corporate volunteer opportunities, please visit our website at 365eventssd.com or email Teresa Miller at [email protected].